Portable Car Air Purifier 車用香薰空氣清新機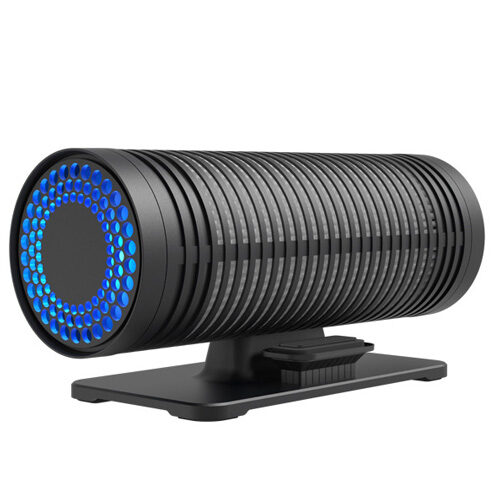 Are you tired of driving in a car that smells like stale air, or worse, the odor of the previous owner's fast food? Do you have allergies that are exacerbated by pollutants in the air? If so, then you need to consider purchasing a Portable Air Purifier.
Our Portable Air Purifier features advanced filtration technology that includes Pre-Filtration, HEPA, and Carbon Fiber filtration. This means that it can filter out tiny particles from the air, including dust, pollen, and harmful pollutants. With dual fans, it can quickly and effectively circulate the purified air throughout your car.
The design of our Portable Air Purifier is not only functional but also aesthetically pleasing. It features a cool LED light that creates a relaxing ambiance in your car, making your driving experience even more enjoyable.
Additionally, our Portable Air Purifier is easy to use and maintain. It is powered by a USB cord, so you can plug it into your car's USB port or any other USB power source. The filter is easily replaceable, so you can ensure that your purifier is always working at peak performance.
Investing in a Portable Air Purifier is not only good for your health, but it also enhances your overall driving experience.
Say goodbye to unpleasant odors and harmful pollutants, and hello to fresh, clean air. Order your Portable Air Purifier today and enjoy the benefits of a cleaner, healthier driving environment.
您是否厭倦了在車內聞起來像陳舊空氣或更糟的難聞氣味?
您是否因空氣中的污染物而加劇過敏? 如果是這樣,那麼您需要考慮購買便攜式空氣淨化器。
我們的便攜式車用空氣清新淨化機便適合您,它採用先進的過濾技術,包括預過濾、HEPA 和碳纖維過濾。可以過濾掉空氣中的微小顆粒,包括灰塵、花粉和有害污染物。 此外,它配備雙風扇,可快速有效地使淨化後的空氣在您的車內循環。
若要添加芳香味道,您用以加入數滴的精油!
我們的便攜式車用空氣清新淨化機的設計不僅實用而且美觀。 它配備酷炫的 LED 燈,可為您的車內營造輕鬆的氛圍,讓您的駕駛體驗更加愉悅。
我們的便攜式空氣淨化器易於使用和維護。 它由 USB 供電,因此您可以將其插入汽車的 USB 端口或任何其他 USB 電源便可使用。
過濾器亦於更換,因此您可以確保您的淨化器始終以最佳性能運行。
投資便攜式空氣清新淨化機不僅對您的健康有益,而且還可以提升您的整體駕駛體驗。
告別難聞的氣味和有害污染物,迎接新鮮、潔淨的空氣。 立即訂購您的便攜式空氣淨化器,享受更清潔、更健康的駕駛環境帶來的好處。