Pure Essential Oil – Ylang Ylang Grade II
$120.00
描述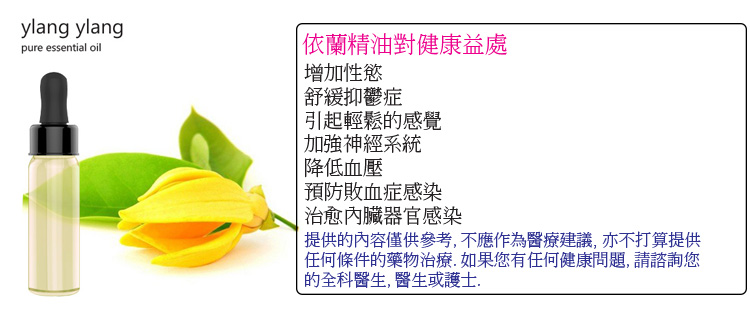 ---
Ylang Ylang Grade II Essential Oil
依蘭依蘭精油
Ylang Ylang is produced from the tall, evergreen Cananga tree that originates from South-East Asia, and is mainly produced in Indonesia and Madagascar. The tree produces large yellow that flower all year round. They have a powerful, fragrant scent and the essential oil is steam distilled from them. A single distillation of Ylang Ylang is interrupted at different times to produce different grades of essential oil.Madagascan distilleries often produce up to 5 grades including Ylang Ylang Extra, Grade 1, Grade 2 and Grade 3.
In aromatherapy Ylang Ylang is used for its antidepressant, sedative and antibacterial properties. It can help to reduce high blood pressure. It also helps to slowdown over rapid breathing associated with shock, anxiety and anger as well as treating frustration and stress.
Volume: 10ml
Safety Note:
High concentrations or excessive use can cause nausea or headaches.
Skin:
Ylang Ylang has a softening and balancing effect on the skin and is beneficial for combination skin, irritated skin and acne. It balances sebum production for both dry and greasy skin and scalps. It can also be used as a scalp tonic to stimulate hair growth and is recommended for treating split ends.
Blends well with:
Most floral's and citruses such as Chamomile, Lavender, Geranium, Bergamot, Lemon
Disclaimer
The content provided is for information only and should not be relied upon as medical advice. If you have any health concerns, we strongly recommend that you seek professional medical advice. The information provided assumes there are no known contra-indications to treatment. If you have a medical condition, are taking medication, or are pregnant then you must seek professional advice before using aromatherapy. We accept no liability for the misuse of our products or reliance on the information provided.
Safety advice
Essential oils are extremely powerful substances that may be toxic if used incorrectly. Please read the following safety information prior to use.
If you have any questions, please do not hesitate to contact us for further advice.
Some essential oils are flammable and should be kept away from naked flames
Store oils away from direct heat and light, and keep away from children
Avoid contact with polished, plastic or painted surfaces
If you are pregnant, suffering with a medical condition, or taking medication please seek professional advice before using essential oils
Do not take internally without the advice of a professional aromatherapist
Essential oils should always be diluted prior to use (except for Tea Tree and Lavender)
Avoid contact with eyes
Take care with sensitive skin and perform a patch test before using on larger areas
Some essential oils are photo-toxic (e.g. citrus oils) and should not be applied to the skin before direct exposure to sunlight
Seek professional advice before using on small children or babies
Do not dispose of unwanted essential oils down the drain
---
依蘭依蘭精油
Ylang Ylang Grade II Essential Oil
Ylang Ylang 精油是從Cananga樹產生,是在馬達加斯加,馬來西亞,印度尼西亞和留尼汪島種植的一種高常青樹, 有大黃色和白色的花,散發濃厚芬芳的氣味。 Ylang Ylang精油是從花中蒸餾出來的,黃色的花被認為是產生最好的油。 在四個不同的時間中蒸餾,以產生四種不同等級的精油- Ylang Ylang Extra,1級,2級和3級。
Ylang Ylang常用於香水業界中因其擁有異國情調的香味。 在馬來亞,"宜蘭宜蘭"是指"花之花",適合其甜蜜的香味。 它也被稱為"窮人的茉莉花"!
物種:Cananga odorata var。genuine
植物科:藜科
原產地:Commores
注:中間
提取方法:蒸餾
安全注意事項:
可能導致高濃度的噁心或頭痛, 可刺激過敏的人。
混合與 :
檸檬,香檸檬和其他新鮮氣味的精油混合,以幫助減輕濃郁的香味。 與大多數植物和柑橘類物質可很好地混合。如洋甘菊,薰衣草,天竺葵。
免責聲明
提供的內容僅供參考,不應作為醫療建議, 亦不打算提供任何條件的藥物治療。如果您有任何健康問題,請諮詢您的全科醫生,醫生或護士。
所提供的信息是假設沒有已知的敏感症或對抗性適應症等。
如果你有醫療條件,服用藥物,或懷孕,使用芳香療法之前請你必須尋求專業意見。
對於錯用我們的產品或依賴所提供資訊,我們不承擔任何責任。
安全建議
精油是非常強而有力的物質,如果使用不當,可能是有毒的。使用前請閱讀以下安全資訊。
如果您有任何問題,請隨時與我們聯繫,以獲得進一步的建議。
精油是易燃的,應遠離明火
精油要存放於遠離熱源和光線
遠離兒童
避免接觸拋光,塑料或油漆表面
如果您懷孕,患有疾病或服用藥物,請在使用精油前尋求專業醫護意見
不要在沒有專業芳香師的建議的情況下內服
精油必須要先稀釋後才能使用(除茶樹和薰衣草外)
避免接觸眼睛
如果在皮膚上使用精油,請首先對身體不敏感的部位進行小貼劑測試(在載體/基礎油中稀釋油之後)
一些精油是光毒性的(例如柑橘油),使用後不能直接暴露於陽光下.
在對小孩或嬰兒使用之前尋求專業建議
不要在排水管中丟棄不需要的精油
如果您對使用精油有任何疑問,請通過"聯繫我們"與我們聯繫