USB Ultrasonic Aroma Diffuser w/Bluetooth Speaker (Colour Changing)
$190.00
描述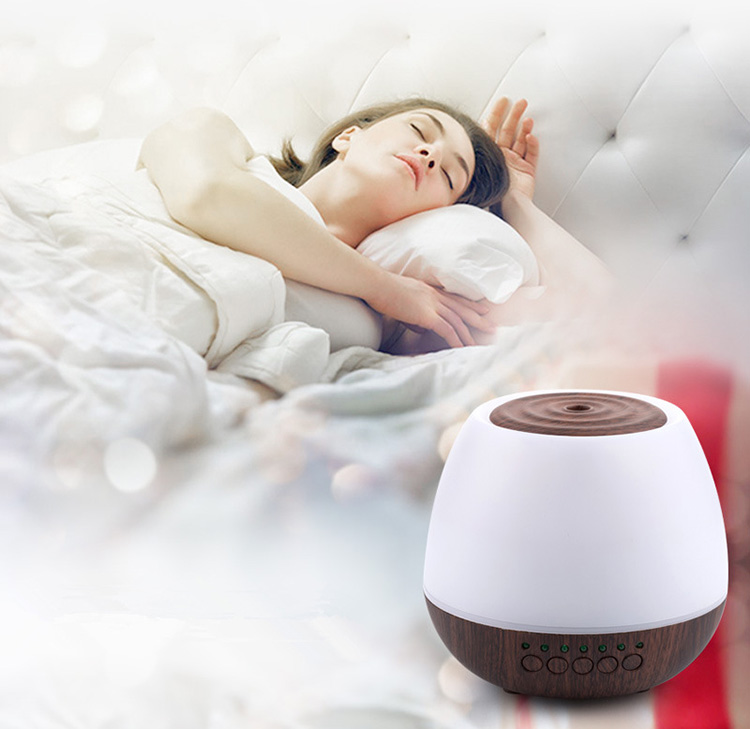 ---
USB Ultrasonic Aroma Diffuser w/Bluetooth Speaker 
USB 透光超聲波香薰機 (藍芽喇叭)
Free a pure essential oil
Elegant appearance
The advanced ultrasound technology to produce fine mist of oil dissolved in water molecules that completely release to the air, to make it more easily absorbed by the body
Ultrasonic water oxygen spray produces large amounts of negative ions, while allowing you to enjoy as the forest bath
Custom timer for various continuous spray pattern
The mist amount can set high or low
Colour changing LED lights
Aromatherapy, Hydrotherapy and Photo-therapy in one.
To create a warmth environment to make you feel comfortable and refresh.
Specification :
【Bluetooth】Bluetooth V4.0
【Speaker】4W
【APP】Support IOS & Android
【Colour】Dark Brown
【Material】ABS + PP
【LED light colour】7 light colour
【Capacity】235-300 ml
【Input】5V 1A
【Size】145 x 145 x 135 mm (D x H)
【Weight】360grams
The main functions:
Spray humidifier to increase the air humidity, and able to produce negative ions to purify the air
The oil essences can be added, for aromatherapy purpose
Lack of water, over-turned will stop automatically
* Specification is subjected to change without prior notice
---
USB Ultrasonic Aroma Diffuser w/Bluetooth Speaker 
USB 透光超聲波香薰機 (藍芽喇叭)
送100% 純精油一支
精美的外殼,高雅美觀。
先進的超音波技術,產生極其細小的水霧,將溶於水中的精油分子完整的釋放於空氣中,令其更加容易為人體所吸收。
超音波水氧噴霧在加濕空氣的同時還可以產生大量的負離子,讓您同時享受森林浴。
內置七彩變色LED燈。
集香薰治療、水療和光療於一身,營造溫馨的環境,令人心情舒暢,精神煥發。
規格 :
【藍芽】Bluetooth V4.0
【喇叭】4W
【APP】支援 IOS , Android
【物料】ABS
【顏色】深啡
【燈光顏色】7色
【容量】235-300ml
【加濕功能】超聲波. 香薰. 加濕
【電壓】5V 1A
【尺寸】145 x 145 x 135mm
【重量】360grams
主要功能:
噴霧式加濕,增加空內濕度,達到淨化清新空氣效果
可加入香薰油,作香薰器之用
【味道及功效】
薰衣草Lavender---含有薰衣草精油(放鬆心情、減輕壓力)
安睡寶Sleepwell---含有薰衣草與洋甘菊精油(舒緩神經、幫助入睡)
倍感欣慰Comfort-含有玫瑰與玫瑰草精油(浪漫氣氛、提振心情、精神舒適)
呼吸順暢Breathwell-含有尤加利與薄荷精油(提神醒腦、呼吸順暢、紓解感冒)
和諧心情Harmonizing-含有綠茶和鼠尾草精油(振奮心情、鎮靜神經、清晰頭腦)
減輕壓力Stress-less-含有薰衣草和天竺葵精油(舒解壓力,平撫焦慮,安定情緒)
驅蚊蟲Pestfree-含有檸檬草和天竺葵精油(具驅蟲,殺菌,除臭效果)
* 以上不包括香薰油
* 以上資料僅供參考用, 以產品實際為準備!